Mashonda Tifrere




Art collector, musician, and Renaissance woman Mashonda Tifrere is the founder of ArtLeadHer, an organization focused on providing equitable opportunities for women in the visual arts. Tifrere spoke with the ISE-DA team about building her art collection, provided advice to aspiring collectors, and gave a sneak-peak into her upcoming ventures.






Mashonda Tifrere.





What is your earliest memory of art?



My earliest memory is growing up in Harlem and being surrounded by graffiti art. It was everywhere. I also grew up when Keith Haring was very popular in street art, so I was very familiar with his tags and work. I also had an uncle who was a painter. [Through that], I was exposed to painting, the textures you can make, working on canvas, and more from a very young age.



Did that motivate you to start collecting art as you grew older?



Yes. I believe that my life and my journey inspired what I collect. I have a beautiful portrait of my grandmother by Jerome Lagarrigue. I had him photograph her and he then painted a beautiful portrait of her. It was so realistic. I make sure that the art that I collect and the art I bring into my home represent my life.


I started collecting when I started making my own money because it can be an expensive habit. I was about 20 years old when I purchased my first piece of art. It was a photograph by Ansel Adams -- one of my favorite photographers. It was Trees and Snow.



What are you currently collecting?



Right now, my focus is on collecting emerging artists -- mostly women and Black artists. While I am still very into photography, I also love painting and abstract work. It is hard for me to find abstract work that I like. When I do, I immediately get it.



Is there an artist that represents the work you are looking for?



Yes, my latest piece is a Patrick Alston piece. I fell in love with his new show, Let there be Light, up at ross+kramer gallery. I fell in love. I was determined to get a piece and thought "he's emerging. He's new. He's going to blow up." I was happy that my good friend Mario was able to lock in a piece for me.

Patrick Alston, "The Story of Oj"
30 in x 30 in, Acrylic, Acrylic Polymer, Ink, Oil and Oil Stick on Sewn Fabric & Vinyl
2021


Are you looking to present your collection publicly?



Not right now. I am still very private about the work that I collect. I have posted a few pieces. But for the most part, I keep it very private.




What advice would you give to aspiring collectors?


You have to take your time with collecting and art collectors should be more supportive and more considerate to the artists. Get to know the artists. Understand them and understand their journey. I know some artists want to be involved with their collectors. For me, I want to be a part of their legacy. I only buy art that I love - I do not buy art just as an investment. I want to connect with the art and I want to hand it down to my grandchildren. I want it to become a part of my life. I am also trying to connect with international artists. I'm currently working with Nigerian artist, Unyime Edet. His work is amazing. I can't wait for the world to see it.



How did you find his work?



I came across his work on Instagram. I discovered it on Instagram. Social media is an amazing tool for connecting with artists.



With your show, Truth About Me, you featured many emerging artists. Did you connect with them through social media?



Some were new relationships formed on social media.



I loved Lauren Pearce's work [in the show].



She is incredible. She is a star. Lauren is creating museum-quality work at a very early stage and she is a great human being. There are a lot of great things in store for her. I credit Truth About Me for introducing me to her.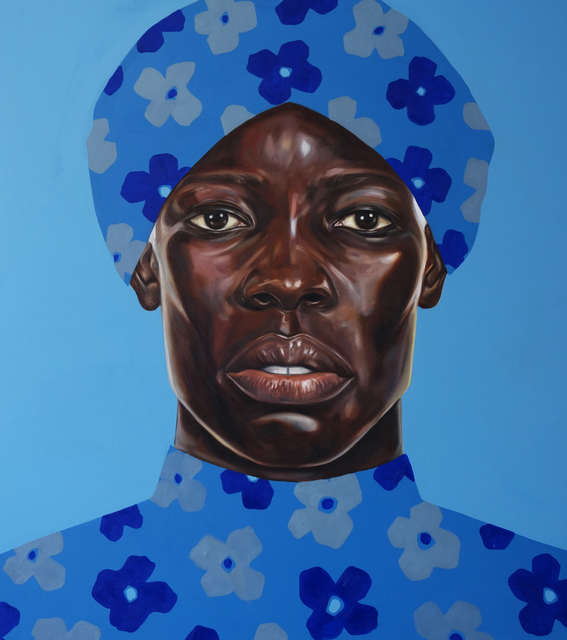 Lauren Pearce, "Blues in my bedroom" 50 in x 58 in. Acrylic and Oil on Canvas





Could you speak more about Truth About Me and ArtLeadHer?



ArtLeadHer was born in 2016. I wanted to help female artists -- I wanted to create a platform for them to show their work and talk about their work. I planned for it to be an independent thing so artists do not feel locked down or obligated to a gallery.


I had this vision in 2016 and have since shown over 40 artists. My third show was with Donna Karen at Urban Zen, a gallery space.



You have had many successes with ArtLeadHer. I know you are creating a new venture called Art Reign Collective. What do you plan to achieve through that?



I am bringing in all art forms that I love and the art forms that have been a part of my life. Part of it will be creating a residency for artists to come together and collaborate. Art Reign Collective is my new baby and I am excited about it because I will be working with both men and women. I am going to unite with all of my creative colleagues, curators, musicians and writers.

It will be a creative space with programming for all the art forms -- it is a celebration for creatives. To bring them all together and to inspire each other.

Dawn Okoro, "Pressure"
Acrylic on canvas, 30 in x 30 in (72.2x72.2 cm), 2021






June 1, 2021
By Adefolakunmi Adenugba




ISE-DA does not own the rights to any of these images