A Conversation with: Bafrro
The ISE-DA team spoke with Puerto Rico based artist José Ángel Baez Christopher, also known as Bafrro (@bafrro), about his work, the Puerto Rican art scene and the importance of community in an artist's career progression.
Bafrro is a multi-talented abstract artist, who is also a photographer and hairdresser. He is well known for his exhibitions in his hometown Mayagüez that support friends and local artists.
Tell me more about your background and your art.
I'm really inspired by abstract expressionism. At the beginning, when I started experimenting with my art, I didn't know what I was doing. I was having fun with the paint and the canvas. Eventually, things started to pop out without me planning it or having any intention to include it. I realized that something is going on here and I am doing something good here. I then started getting more serious with my art, I started studying it, and buying a lot of books. In the beginning, I think, I was bored and was really stressed. I wanted to paint and now I'm getting serious about compositions, and selling art. I think I'm inspired through my spiritual side and subconscious side. I am able to express this side through paint and canvas. Art is a way for me to understand myself. My grandfather used to draw a lot of patterns. My artwork is very much like that. My mom has a creative side but she does not really use it. My family is very creative but don't get to use it because they are working a lot. I want to break that pattern and work more on my talents. I never knew my creativity could be through painting though.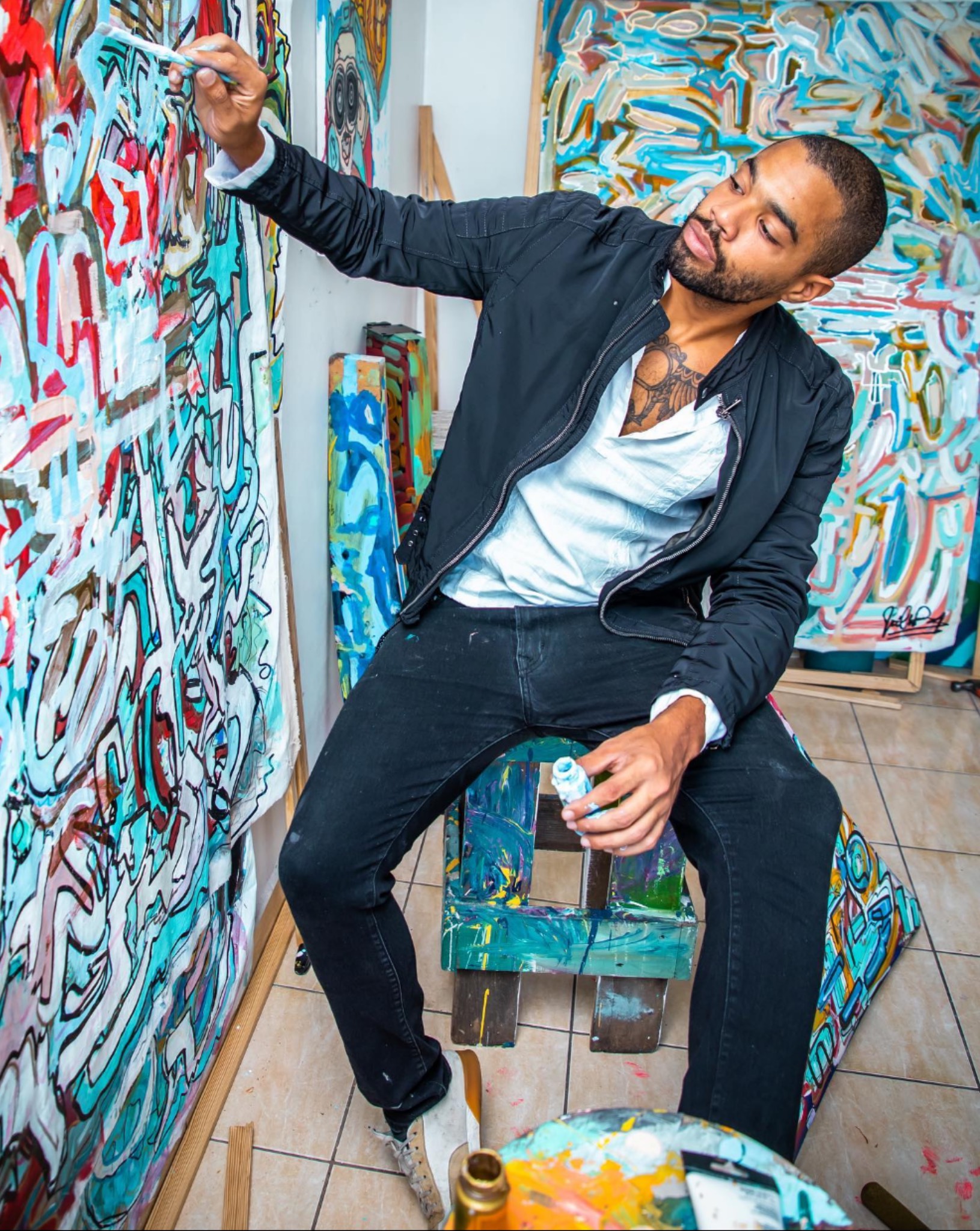 Bafrro by Hans Font (@hansfont @cloudvisualz)
You said you started to read books to help you develop your practice. Which books helped you progress as an artist?

I have a pile of books from Taschen. It's a package from this brand. They have a lot of art books I have read about artists like Basquiat, Klimt, Pollock, René Magritte and Rothko. Rothko is definitely one of my biggest inspirations. At the start I didn't believe in what I was creating but I read a quote by Pollock about spiritual skills and shelf skills. Spiritual skills are the ones you naturally have and abstract artists use most. I read that and thought "Oh, I am not doing anything crazy here." It gave me more confidence in my development of my art work. Other books I have read are Gilbert's Living with Art, 5th Agreement by Don Miguel Ruiz and books focused on spirituality and self-growth.
So reading about other artists inspires you? Do you get inspiration from contemporary artists around you?

Definitely. I am always surrounding myself with other artists so I can learn from them. I do a lot of activities here in Puerto Rico like expos and I invite other artists. My purpose is not just to grow myself as an artist, I have a purpose for other artists too. There's a lot of talent here in Puerto Rico that is not exposed. Artists are say "Oh, I don't want to show my artwork" or they don't know how to sell it. I don't know if it's only in Puerto Rico, but I can see that environment here. I want to help other artists. I want to help them get representation and build and audience. My mission is not only with me. I want to inspire other artists to develop their work. And I'm doing that.
On your instagram page (@bafrro), I saw you have a barbershop, you do photography and you have a gallery.
I have been working in hair for 8 years. I have my own place called Bafrro hair. It's here in the town. My plan is to grow it globally. It is a slow process. I also have my brand. It's a brand that promotes the sketches I make in my books. I do have a gallery to help other artists. If I have a friend that wants to share their art, I exhibit it there and we have shows. Even at some food places, cafes or even Starbucks.
Each of my creative pursuits pushes me to another. They are separate in how I express myself but there is most definitely a bridge connecting them all. My art has more of a connection with my relationships with people and myself. At least for now. I have not had much of a plan yet with my art because I have all of these other jobs to do. So, when I go to my studio I just want to create, you know? I want to be surrounded by more artists but where I am in Mayaguez where there is not that much art.




Where would you say the art scene is focused?



The art is mostly in San Juan, that's two hours from where I live. One area of San Juan is Santurce. That is a place where once a year they throw a festival that shows local artists. You do not see that stuff in
Mayagüez
. That is why I go to San Juan to see that, museums and meet with other artists. I have to go to San Juan a lot. I know that helps my art. Most of my clients are there. Your exposure to art also depends on the area you live in. Here, I was able to exhibit about four times. Galería Betances, that was my second one. My first one was in Río Piedras, San Juan. These types of galleries are for artists who are just beginning. That's where it starts. Then eventually you will have Galería Petrus or WOCA: Walter Otero Contemporary Art. That is the most famous art gallery here. He's really good, Walter Otero. He has a lot of great artists. I don't know if you know Arnoldo Roche but that is the level of artists he works with.

What is the art scene like in Puerto Rico? What type of works are artists making?

Here, people are very cultured. Artists that I see here, you see Puerto Rican focused works from older artists. Younger artists you see more contemporary works, and abstract art, and realism. They love realism, especially figurative. The type of environment I see is that they see abstract art and don't understand it so they don't like it. I think they just need more trust and support from the art scene here. I try to have information about how to get exposure in the big museums . It's really hard, you really have to be connected with someone to help you get represented, but it's not impossible. You have to work at it every single day. There's so much talent but you have to pay your bills and work, and art? If you don't work at it all the time, it's really slow progression. If you don't have someone professionally to help your art and run a gallery, you have to do it by yourself, which is the hardest part. For me, I like it, it's a beautiful process. It has shown me a lot. You have to value your work and be confident in how much it is worth. In the beginning, I didn't know how much I would sell my work for but now I do. It's so important for an artist to know the value of their work.
Louder, Acrylic on Canvas
You mentioned most people gravitate to realism. What made you decide to create abstract art?
It has to do with freedom and expression. I was really trying to find ways to express my creativity before art. Like photography and hairdressing. Making art for me was like a time bomb and then I started using my gift and began to connect things from my life. My art is about connecting what I study, my jobs and the people around me. That's exactly what it feels like. The more I travel and meet more people, the more my work progresses. I focus on studying my work as I paint. Sometimes I recreate an artwork and see how it changed from the first.
I do not have anything against realism but I am not patient enough to do that. I like to be active and in motion. It is really fun because in the past days, I started focusing on realism. I was tired, had a lot of coffee in my system and I started something non-abstract from nowhere. One of the paintings I created was a simple flower. I tapped into a different part of myself in doing this.




When I looked through your Instagram page, I noticed you once talked about deviating from using typical light colours.
I did have a problem using darker colours. I had a commission from California and he wanted me to use dark colours. So I had to push myself. That artwork got me to understand colour and how I need to make a balance. It led to me adding more darker colours to my palette. When I was doing the commission, I had to focus more. I spent a whole week in the studio working on that piece. And it was different for me but I really appreciated it. It was a great experience to try something different. I started using light colours to represent positivity that came from creating. It reminded me of divinity and purity. But now I relate differently to different colours. It's really cool because It was not something I considered until doing that work.
Is this the beginning for you to move into figurative art and trying new things?
Definitely. I think it shows my growth as a person and in my mentality. I want to combine it later with abstraction. I tried to do something like that the other day but it didn't work out. I felt that I was copying someone's work in trying to do something different and did not want to ruin my integrity and authenticity as an artist. I do not want to force anything.
I would love to do pottery. I have not tried it before but it looks beautiful. I would also love to put my work on pottery. I cannot even imagine how many ways you can put your artwork onto something. From bathrooms to anywhere. I want to try and include it into different spaces. I would like to work with brands or anyone to add my art to merchandise. Like my surfboard on my Instagram. That's one environment I would really love to explore and grow. I do not want to place a limit on how my art can be expressed. I want to explore different environments.
Outside of reading, how else do you explore your creativity?
Surfing actually. That has helped me a lot. The best artwork I make are after intense moments or experiences. It is crazy how you can experience that and then go straight to your studio. I usually make really different artworks after experiences like that.
Where do you want to go with your art career?
I really want to work with other artists. I want to get better but I want to focus on helping them get where they need to. It makes me feel so good. You are not thinking about yourself. You want to talk about other artists, support their vision. I love that part of that work. I think that is the part I most enjoy, definitely. I want to travel and meet new people and experience new cultures. It is the people around me that inspire my work. I definitely see my art progressing that way. I have been looking at programs and residencies, but with the coronavirus, that is on pause now. Eventually, I would love to have an exhibition in New York and to travel there. I have never travelled outside of Puerto Rico.
I would not be able to show my artwork the way I have at this quality in these spaces without some people for sure. Hans Font, he's a photographer, Christopher Ouslan and José Alejandro. They are part of my work. If it was not for them, I would not have been able to show my work to the public the way I wanted to. These three helped me and I want to keep working with them. Other people who have been important to me in my art work are Claire Alexandre, Alexander Fabian and Kyhan.
Self, Acrylic on canvas
Interview by Adefolakunmi Adenugba



May 5, 2020